The P O S H Mini Guide to Bali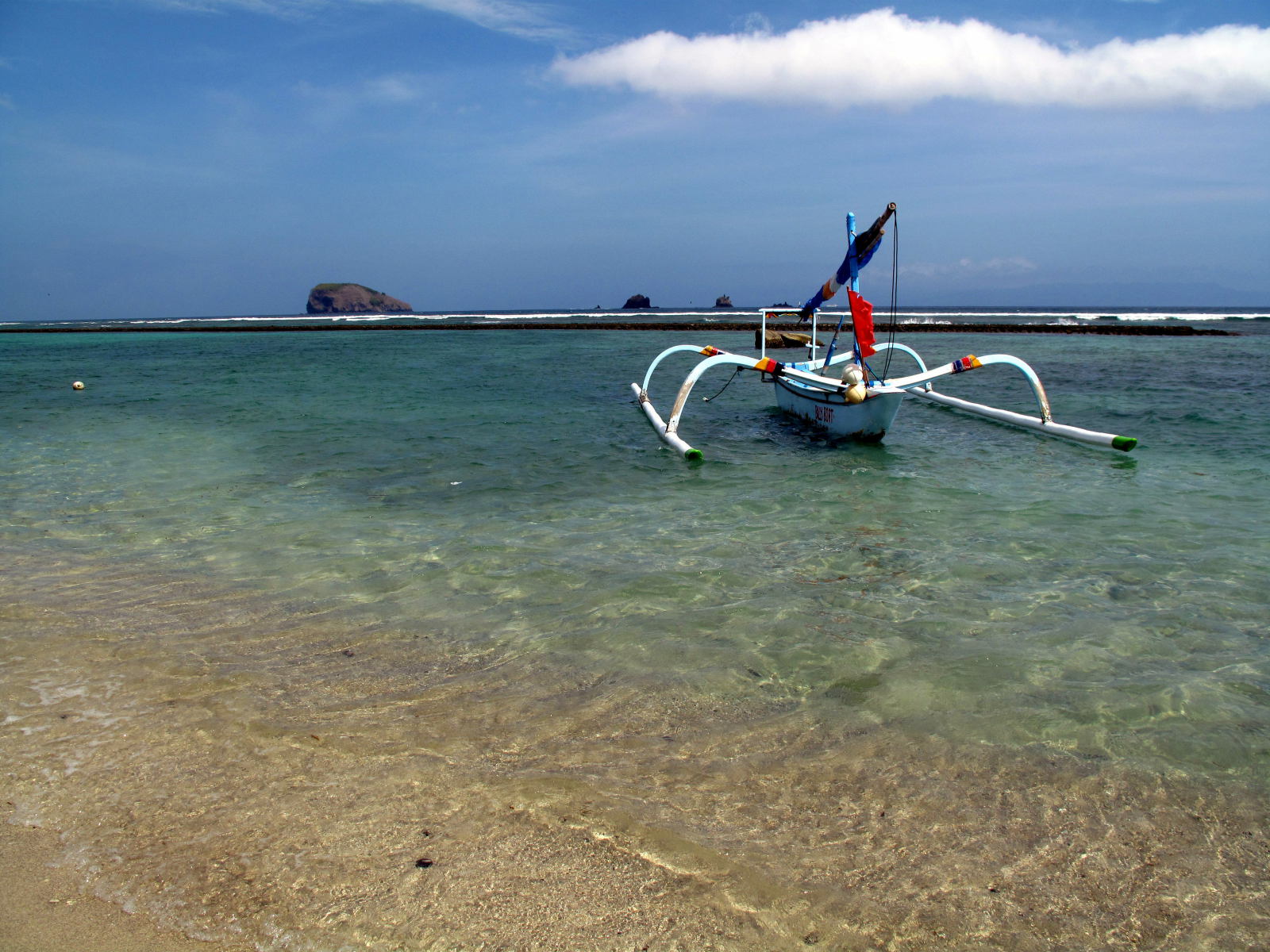 Traditionally styled boat off Candidasa beach, Bali.
Bali - The word is almost guaranteed to evoke a vivid image in people's minds, even among those that have never been there. The place has achieved an almost mythical status. Can any vacation destination possibly live up to such a reputation? Well, maybe.
For the geographically challenged, Bali is a small island less than 100 miles long and 50 miles wide, and is one of more than 10,000 islands that make up Indonesia. The country has been through some rough years, with the economic downturn of 1997 and the political upheaval that followed, which resulted in a massive decline in tourist arrivals to Indonesia as a whole. Thanks mostly to the geographic ignorance of so many travelers who didn't know Bali is in Indonesia; the island's tourism business hadn't suffered too much. However, in the wake of the bombings in 2002 and again in 2005, arrivals went down seriously, but now they're almost back to normal, and expansion is well under way, even in light of current economic circumstances.
What puts Bali near the top of our list of POSH destinations is its wealth of nice accommodations, cultural attractions and excellent restaurants. Hotels, or more precisely, villas, are particularly abundant on Bali. I can think of nowhere else in Southeast Asia where you have such a wide selection of these large rooms, many of them at quite reasonable prices. Bali's rich and active culture is another big added attraction. While most of Southeast Asia's beach resorts feature "cultural" shows that are often little more than caricatures of the real thing, you can visit traditional Balinese villages and see real classical dancing all around Bali.
For any first time visitor to Bali, the first big question is where to stay. The island features a wide array of very different beaches and there are some cultural destinations up on the slopes of the island's volcanoes that should also be considered. The most popular (read: most crowded) area is the west-facing coast of south Bali stretching north from the airport. Starting with Tuban, where the airport is located, you have the more or less unbroken string of Kuta, Legian and the significantly quieter Seminyak. South of the airport is the fishing village of Jimbaran Bay, now home to many posh resorts. Those more interested in a relaxing holiday rather than a party scene head over to Sanur on the east coast or to the even more remote Candi Dasa and Lovina, while Ubud is the island's cultural capital. If your stay on Bali will stretch to a week or more, then you'll most likely want to split your time between one of the beach resorts and Ubud, which is up in the mountains.
When to go to Bali
The "high season" in Bali is in July and August. Temperatures are at their coolest around this time while hotel rates are naturally at their highest. It is also the driest time of year, although there is a slight chance of rain all year round. Bali can also be quite busy in December and January, for the Christmas and New Year holidays. However, this is also the middle of the rainy season, so it can be very wet, as well as hot.
Other busy times of year, when hotel rooms may be hard to come by, are Chinese New Year and other long holiday weekends in Indonesia. You should also be aware of when the Balinese New Year holiday, Nyepi, falls if planning a visit in March or April.
If you are unrestricted in when to go, then the best time to visit Bali is June or late September. The weather is still cool and dry around this time, but there are fewer crowds than at the peak season.
Where to go in Bali
Most people visit Bali for a sun and sand holiday, but there are many different beach areas to choose from. If you want to be where all the action is, the Kuta / Legian area has the biggest selection of shops, restaurants and entertainment venues. It's worth noting that most of the action in Kuta is away from the beach. The ocean here is popular for surfing, which makes it less than ideal for anything else. If you want to swim, wind surf and lie on the beach, or are looking for relaxation rather than parties, then think about Sanur> on the east coast. If you're really into design, then you may want to check out the Bali Hyatt in Sanur, the hotel that started the whole "Bali style" internationally. However, ask any old Bali hand about the best place to stay, and the majority answer will probably be Seminyak. Located just a few minutes north of Legian, Seminyak is where you'll find some of Bali's best restaurants and beach clubs, yet there's very little of the annoying touts you'll find almost everywhere else on Bali. Seminyak is also home to an amazing number of very posh hotels and villas.
If you like big hotels, or have points to blow at the big chains, then you may end up at Nusa Dua. This is also where the most well known golf course, the Bali Golf and Country Club, is located. However, for most people, Nusa Dua is the "worst" area to stay on Bali. The area was developed as a gated resort that shuns much of what makes Bali such a magical place. There's very little of the local culture, except in a very controlled "Disney" fashion. The development typifies the "could-be-anywhere" type of design that most travelers hate.
South of the airport is Jimbaran Bay, home to a few high end resorts, such as the Bali Intercontinental and the Four Seasons. It's worth noting that while Jimbaran is famous for its restaurants on the beach, many of the hotels are actually on the cliffs south of the restaurant area, and may have only a minimal beach.
"But wait, there's more" as they say. There is more to Bali than the beaches of South Bali. A lot more. The island is ringed by beautiful beaches (that's why they call it an island, duh!) And, the beaches vary widely, from white sand to black, stones to cliffs, and everything in between. There are many less developed areas that nonetheless have some very luxurious accommodations. Candi Dasa on the east coast and Lovina on the north side of the island are just two examples of other places to consider, where you really can get away from it all.
If your visit is for more than a few days, you may want to consider staying in more than one place. The best alternative to the beach resorts is the mountain arts colony of Ubud. There are all sorts of accommodation, in all price ranges, in and around the city.
For longer vacations, you may even want to consider exploring other parts of Indonesia. An interesting place to start would be the central Java city of Yogykarta, with its ancient monuments such as Borobodur and the Prambanan.
In this section