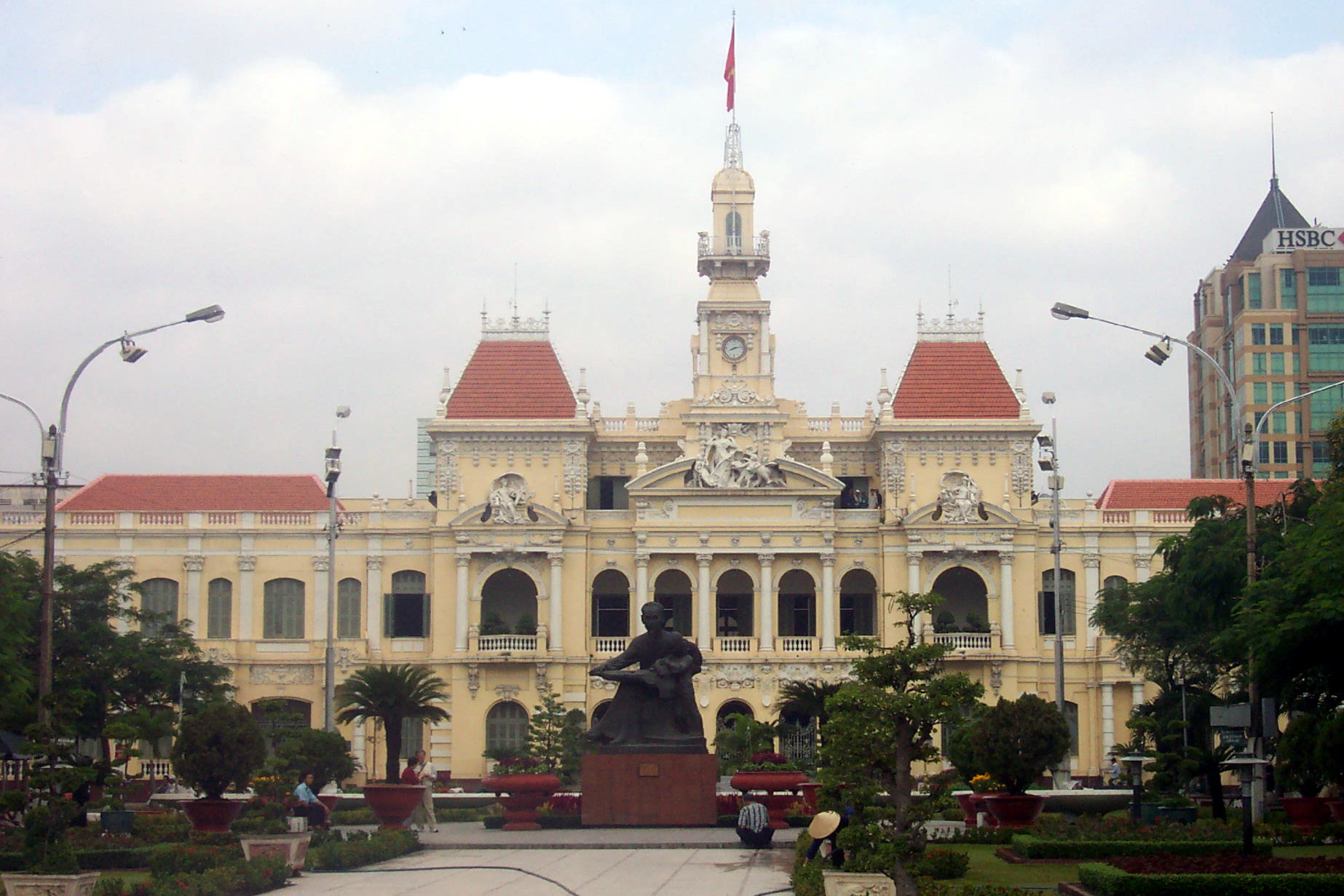 The old city hall (Hotel de Ville) of Ho Chi Minh City
For many, it will probably always be Saigon, the former capital of South Vietnam before the north and south were reunited in the dramatic events which ended America's military involvement in Southeast Asia.
Saigon was the center of French power in the region from the middle of the nineteenth century until World War II, and thus it has some beautiful French colonial architecture, as well as some interesting mid-twentieth century pieces that are quite good examples of the period. The city is full of museums, many but not all of which have something to do with the war. In addition there are markets, parks and a wealth of other attractions that make the city a great place to wander around in.
When To Go
The ideal time to visit is from January to March. This is when the weather is relatively dry and cool. Although many of the city's main attractions are indoors, you'll still want to have fine weather so you can stroll the streets from one to another. The rainy season is rather prolonged in Ho Chi Minh City, lasting from May right through to November. You can check Asia for Visitors for a full breakdown of the weather and a current forecast.
Getting To Ho Chi Minh City
Ho Chi Minh City is the major international gateway for Southern Vietnam, so you can find flights there from all neighboring countries as well as several European and North American cities. You can also get flights to and from most other domestic destinations.
How Long To Stay
Depending on your interests, you can see the major sights of the city in two to three days. There are a number of interesting places around Ho Chi Minh City that can be visited on day trips. These days will extend your time in the city by a day or two.
Getting Around
If you choose a centrally located hotel, then most of the sights should be within easy walking distance. There are taxi, motorcycles and even a few cyclos around that will vie for your business. They can be quite aggressive, so you may need to use a firm hand.
What To See & Do
You'll want to spend at least some time strolling the streets taking in the fine examples of colonial French architecture, from the city hall (Hotel de Ville) to the cathedral and post office. There's also the 'American era' presidential home, now called the Reunification Palace . Restored to its 1975 state, the palace is now a museum. The other major sights of interest are also museums. The Fine Arts Museum is definitely worth a look, as is the Museum of Vietnamese History .
Ho Chi Minh City Hotel Accommodations
There are a huge number of hotels in Ho Chi Minh City, but few of them really rate a POSH label. Here's a short list of the hotels I recommend in Ho Chi Minh City available from our partners.
More Hotel Options