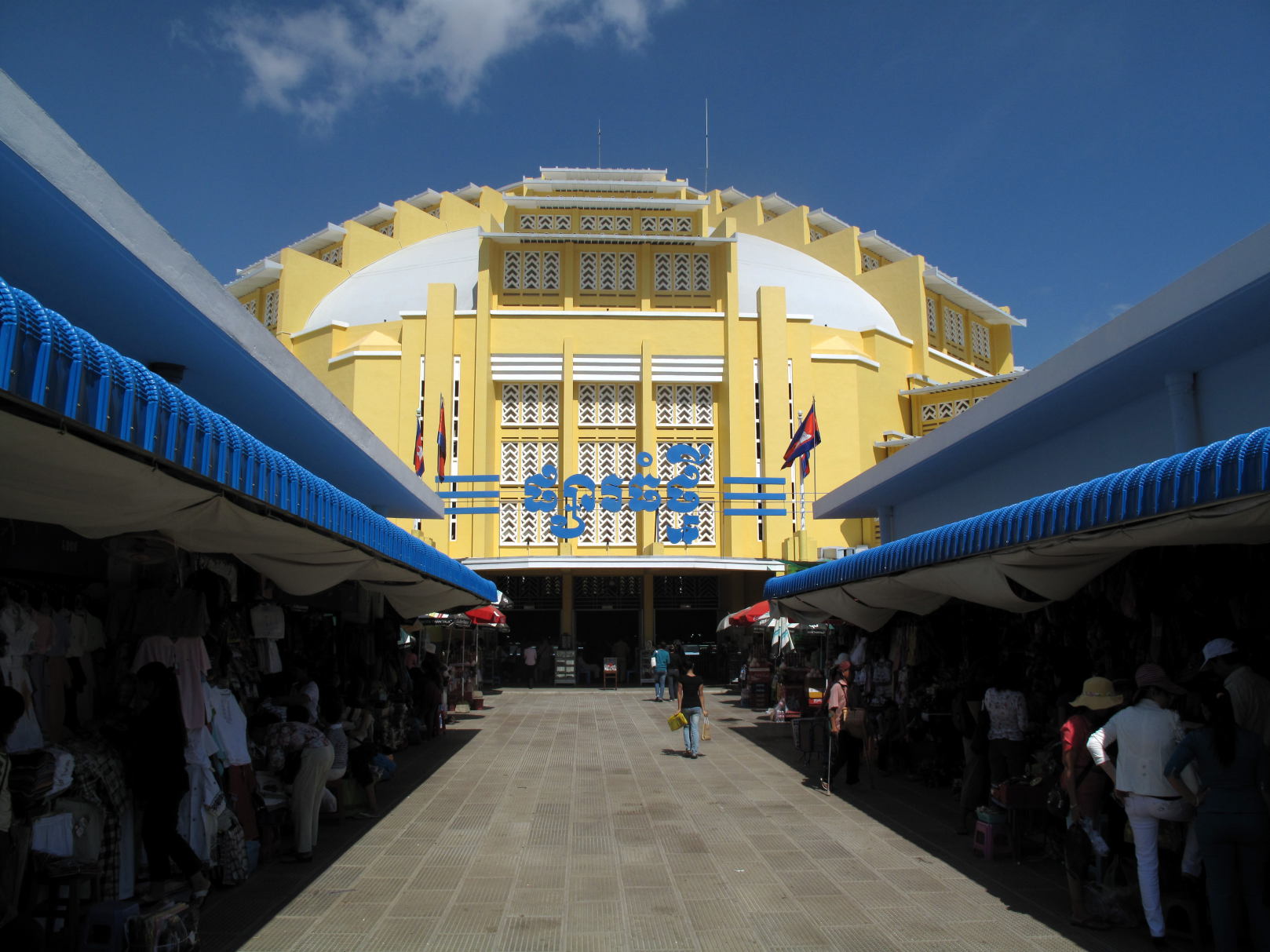 The Central (French) Market in Phnom Penh
Phnom Penh is a great place to shop, with options ranging from name brand clothing to art and antiques. There are a number of markets around town, but the two of most interest to tourists are the Central Market and the Russian Market. Aside from these, there are several other areas worth a look.
Down close to the river, Sothearos Road just north of the Royal Palace is lined with small shops selling silver and carved "jade." Around the corner, Street 178 is known as the "art avenue" and is lined with galleries and shops. Up on the other side of the Royal Palace, Street 240 is lined with boutiques and restaurants.
Psar Thmei (the Central Market)
One of the first memorable sights you're likely to see in Phnom Penh is the somewhat Byzantine presence of Psar Thmei, the central market. The large faded yellow building anchors one end of the main road leading from the airport. The market sells just about everything you can imagine, but don't forget to bargain. Beneath the soaring central dome are watch and jewelry shops, while the wings fanning out from it sell clothing, electronics and much more.
Just a block or so south of the market is a modern shopping center with many stalls selling video discs, fashion and fast food.
Psar Toul Tom Poung (Russian Market)
The old 'Russian' market on the south side of town sells a wide variety of merchandise, from raw meat to motorcycle parts. For tourists, the attractions are clothing, souvenirs and pirated CD's and DVD's. Cambodia is a common clothing manufacturer for many casual brands such as Eddie Bauer, Old Navy and Columbia, and some of these brands find their way into this cramped market. The aisles here are very narrow, so watch your belongings.
Ourssey Market
Not far from the Psar Thmei, near the Olympic Stadium, is Phnom Penh's 'real' market, where most residents still do a lot of their shopping. Orussey sells just about everything, from fresh produce to household goods. You won't find souvenirs or things like that here. It's more a place to have a look around and maybe snap some photos.