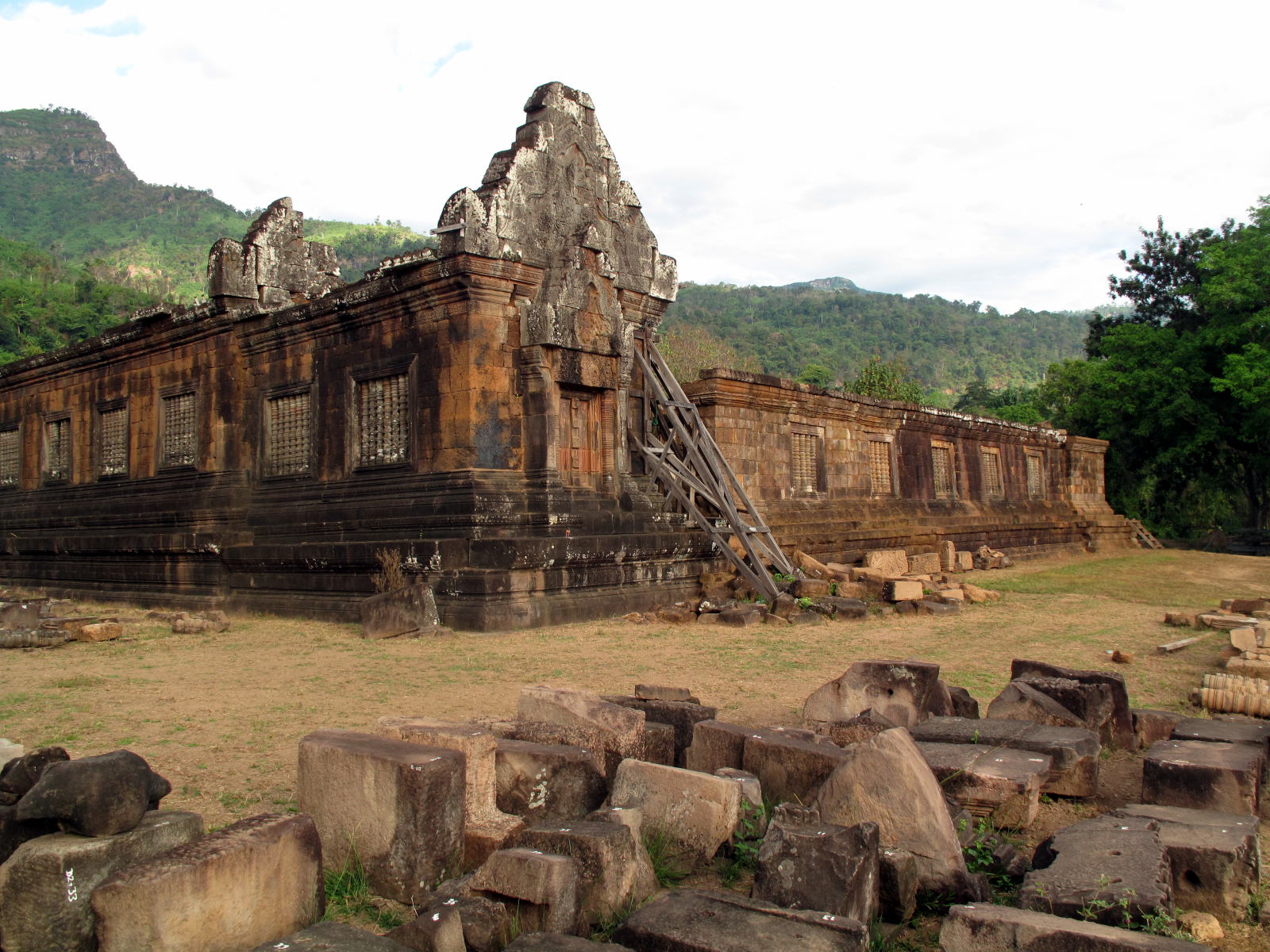 Part of Vat Phou, a large Khmer temple near Champasak in southern Laos.
Southern Laos could well be that long sought after ideal - a destination largely untouched by the vagaries of mass tourism. It is a nice and scenic area, and depending on your interests, there is a fair amount to see and do, although it may require a bit of 'roughing it' in less than POSH accommodations.
The largest city in the area is Pakse, and this will most likely be your main entry and exit point. Not far from Pakse is the old colonial era provincial capital Champasak, with its nearby ancient Angkor Wat era temple of Vat Phou. Champasak can be visited on a day trip from Pakse, but I would recommend a couple of nights there. Much further down the Mekong from Pakse is the 4,000 Islands area, where many people like to stay several days to take in the rural and natural scenery.
When To Go
The wettest months of the year are from June to September, while there is little if any rain from November through March (the average rainfall for December and January is zero). Since getting around the region may involve some river travel, or using roads that or poorly paved, you really should visit only during the dry season. See the Pakse weather page for charts and current conditions.
Getting There
Pakse has an airport, with domestic flights from Vientiane and Luang Prabang, as well as some neighboring international ports such as Bangkok, Siem Reap and Phnom Penh. The alternative to flying into Pakse would be to fly (or otherwise make your way) to Ubon Ratchathani on the Thai border, and then travel over-land from there to Pakse.
How Long To Stay
You should give yourself a good long week to explore the entire area. Since your entry and exit for the regions will most likely be Pakse, you can plan on spending two or three nights there on one end or the other of your trip. If you want to use Pakse as a base for exploring more, such as the Bolevan plateau, then spend another day or two. If you want to see Vat Phou, then I strongly suggest you plan on spending a couple of nights in Champasak, which will also give you time to explore the charming old colonial village. Lastly, you will want to stay in the 4,000 Islands area for at least two or three nights as well.
Where To Stay
In Pakse, I'm afraid there isn't much on offer. The Champasak Palace, which was indeed a palace at one point, is more an interesting curiousity than a nice place to stay. For in-town accomodations, the Residence Sisouk is probably the best on offer.
In Champasak, the Inthira Hotel Champanakhone is definitely the place to stay. Built around an old colonial-era shop-house, the small hotel is right in the middle of town, although that's not really saying much. If you want something a bit more spacious and cushy, then have a look at the River Resort. It's a bit more removed from town, but is set right on a bluff above the Mekong River, with some spectacular views.
Very few of the small bungalows and resorts that dot the 4,000 Islands have web sites or on-line booking presence. Of the few that do, Sala Done Khone and Villa Muong Khong are worth a look.
Getting Around
If you want the maximum comfort and convenience, then the best way to get around the region is to rent a car and driver to take you everywhere, as the distances are quite far. There are any number of agencies around Pakse where this can be arranged.
The main area of Pakse can be navigated on foot, and there's not much to see in the city anyway. To get from Pakse to Champasak, you can take the river or a public bus if you don't want to engage private transport. The same is true of getting to the 4,000 Islands from either Pakse or Champasak.
In Champasak, if you don't have a car and driver, you will want a bicycle, motorbike or private car to get to Vat Phou and back. A stroll through the village on foot will allow you to see the rest of the sights in a few hours.
What To See & Do
Although there's a tiny bit of colonial charm to the city, there isn't much to see in Pakse. The city is the center of the regional coffee growing trade, so there are a surprising number of good coffee shops around town. Likewise, a trip to the coffee growing area of the Bolaven Plateau is one of the reasons to linger in Pakse. There's more to see around Bolaven than just coffee plantations, there are spectacular waterfalls and other scenery as well.
In Champasak, the main sight is Vat Phou , an eleventh century temple built during the reign of the mighty Khmer empire based around Angkor Wat. However, one reason to spend a bit more time in Champasak is to enjoy the colonial architecture , which is much more in evidence here than in Pakse.