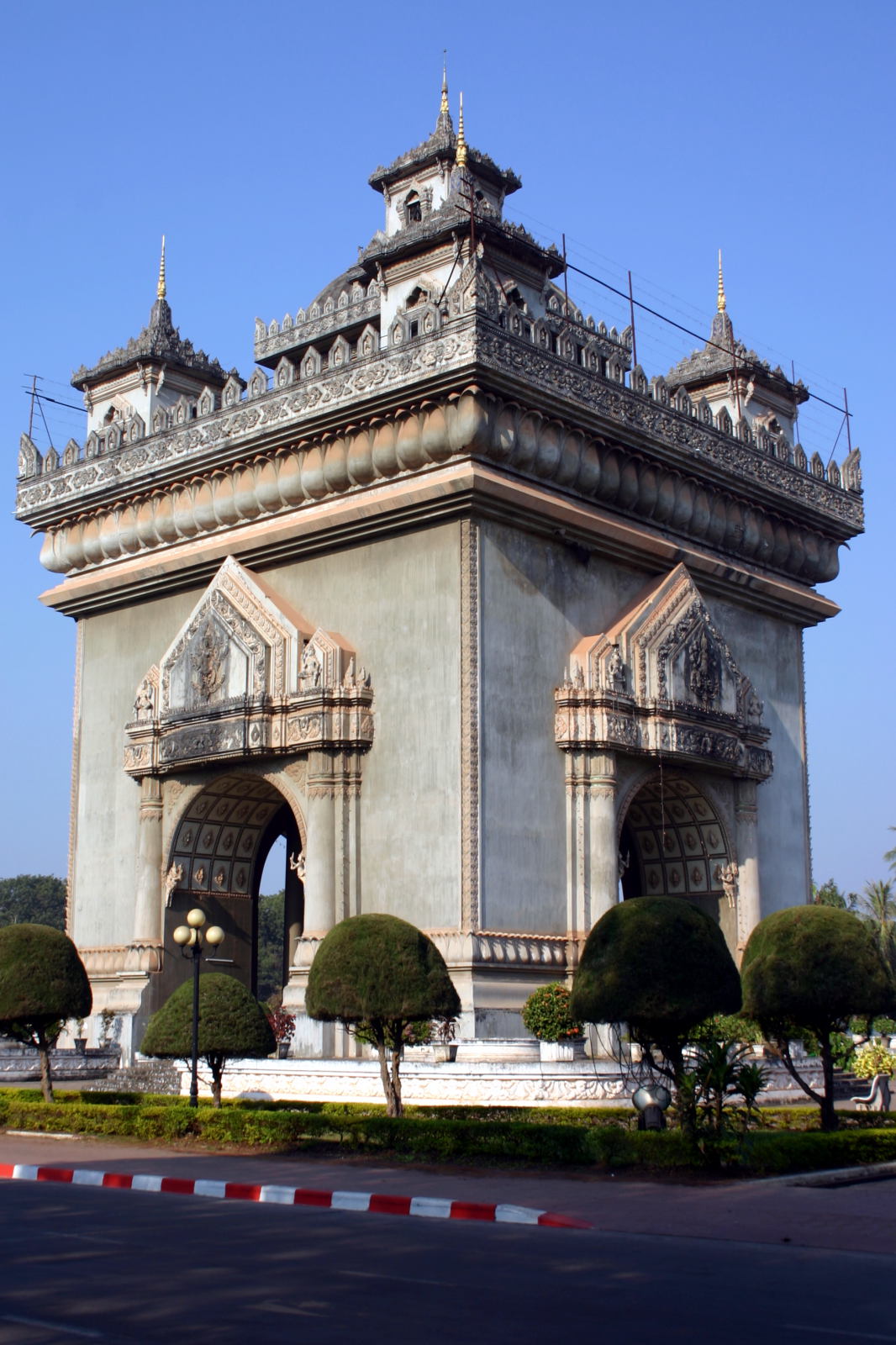 The Patouxai, Vietniane's triumphal arch.
Compared to its neighbors in the region, the Laotian capital is decidedly small and laid back. It isn't exactly in stasis, but the pace of growth is not quite the breakneck speed of Bangkok or Phnom Penh, for example. For some, the city is too small and the pace too slow to hold their interest, but that's exactly why I think it's worth considering.
There isn't a lot to see in Vientiane, although there are a few very interesting places. What's more, the city has a surprising number of good restaurants and some not bad shopping either.
When To Go
Like most of mainland Southeast Asia, Vientiane has a pronounced rainy season that lasts from May to September and an equally pronounced dry season from November to February. The winter months are also cooler, with sometimes chilly nights. Rain is not necessarily a hindrance to enjoying Vientiane, but for the best weather, schedule your visit in December or January. See the Vientiane weather page at Asia For Visitors for graphs and current conditions.
Getting To Vientiane
You can reach Vientiane by air from several other cities in Laos, as well as from neighboring countries. If you're coming from Thailand, a somewhat cheaper and not altogether unpleasant option is to fly to Udon Thani near the Thai-Lao border and cross the bridge over the Mekong into Laos. There is a van service at the Udon airport that will take you to the bridge, where immigration formalities take place on either side. Once through immigration on the Lao side, it's a short 15 minute taxi ride into Vientiane.
How Long To Stay
A full day is all you really need to see the key sights of the city, but with so many good restaurants and a few other distractions, you could easily spend three or four days here. For a first time visit, I would suggest a minimum of three nights.
Where To Stay
Settha Palace, in a restored colonial hotel, is definitely the top end of the city's small selection of hotels. The Ansara Hotel is newer, and frankly better located, although it's probably not as fancy. Lastly, the Salana Boutique Hotel is a newcomer in a good location.
Getting Around
With only a couple of exceptions, most of what there is to see is within easy walking distance of the riverside area, so if you select a hotel in that part of town, you can explore the city on foot. For making trips further afield, such as to Tat Luang or the Buddha Park, the primary transportation available is the three-wheeled tuk-tuks. They can take you just about anywhere, and wait to bring you back, but you need to negotiate the fee before you get in.
What To See & Do
Most of the major sights are around Lane Xang Road, a grand boulevard that stretches from the Presidential Palace down by the river, up and around the Patouxai , Vientiane's own triumphal arch. Right across the street from the president's house is Wat Sisaket, a temple that's also a museum of Lao religious art and architecture. Next to the palace is the Ho Prakeo, an ornate hall where the Emerald Buddha, now a symbol of Thai nationalism, was kept for nearly 250 years before the Siamese took it to their new capital in Bangkok.
Two more worthwhile sights are a little further afield and will require transportation. Tat Luang is the most important shrine in Laos, a symbol of both the Buddhist faith and Lao nation-hood. The golden pagoda is a couple of miles north of the riverside area. The Buddha park is a fantastical sculpture garden full of concrete statues depicting Buddhas, angels and other creatures from the local folklore. It is east of town beyond the Thai-Lao bridge.