Many people visit Singapore on business, or as a quick stop-over on their way to other destinations in Asia. Singapore is a very good place to start or end an Asian vacation. Since many people stop for only a day or two, many don't get beyond the shops of Orchard Road.
While Singapore may not have ancient temples or fantastic natural scenery, it does have its own interesting and even world class sights. Here's our list of the things you must see:
Singapore River
The Singapore River is the heart of old Singapore. There's not much left of the real old Singapore, but there's still lots to see of historical interest, as well as gastronomic. Start at the Merlion statue, the symbol of Singapore. Walking up the east side will take you past the national museum, old customs house and parliament, eventually ending up at Clarke Quay. Up the west side will take you past the Fullerton hotel and Boat Quay.
You can comfortably walk the most interesting part of the river, although you can also take a more extensive tour by boat from either Raffles Landing or Clarke Quay. A new interesting option we noticed in September 2002 was the Singapore "Duck Tour." This tour uses an amphibious vehicle to give you a tour of Singapore by road and water. The tours depart from Suntec City.
Singapore Zoo
Considered one of the best zoos in the world, this massive open system park requires the better part of a day to explore. For up to date information on what's going on, check out the web site of the Singapore Zoological Gardens.
Singapore Historic Districts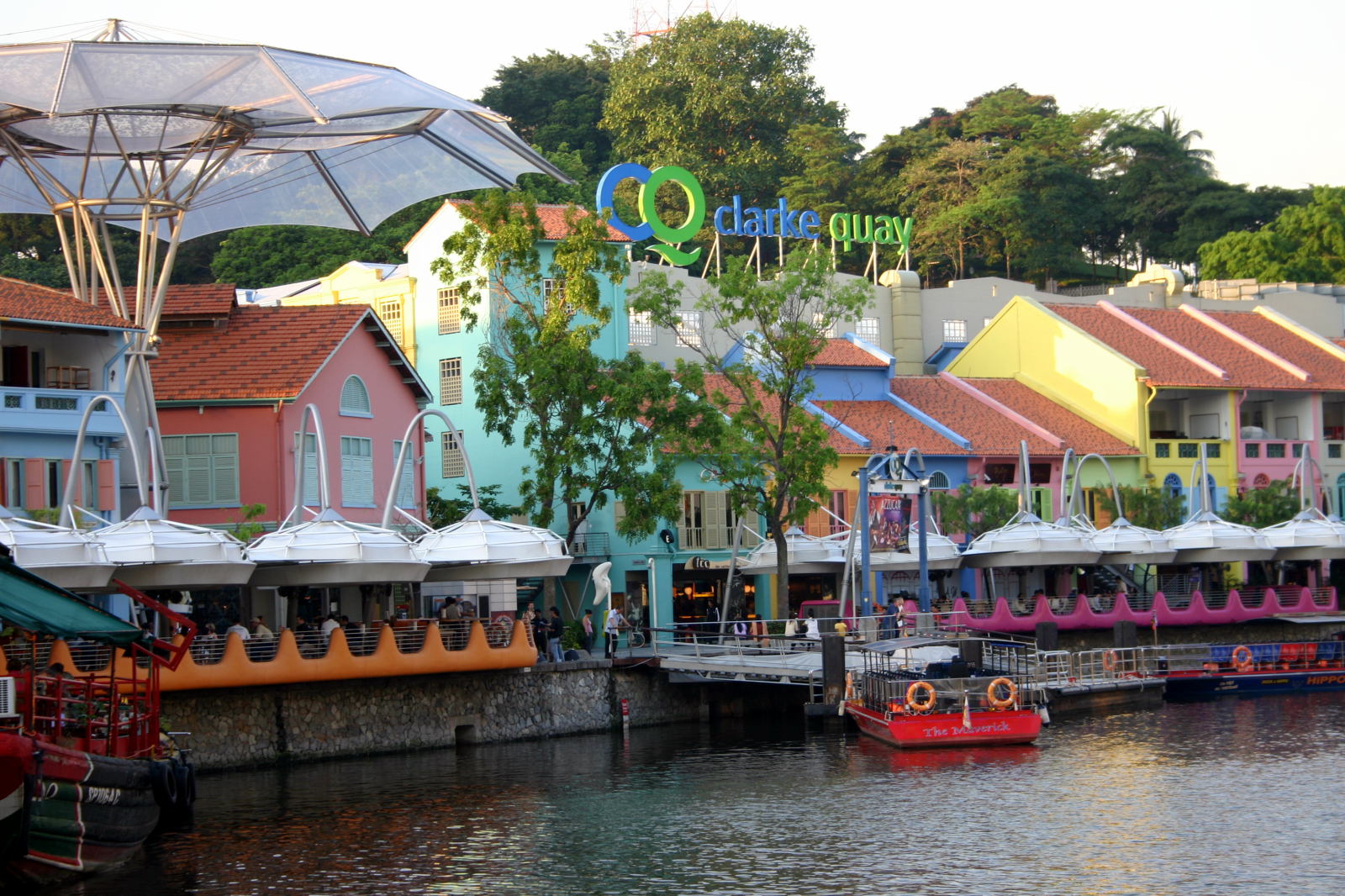 The restaurants and boats along CLarke Quay
The British imported Chinese workers as well as peoples from other parts of the empire. These groups often congregated into their own districts, giving Singapore areas with distinctive buildings and styles. Take a walk down Arab street, where you'll find fabrics from across Asia. Not far from here, along Serangoon street, is "little India." Of course, there's also a Chinatown.
Over the last few years are so, numerous "historical" areas have been developed, such as Bugis Junction, Boat Quay, Clarke Quay and Tanjong Pagar. These are very tourist-oriented areas, where the development has a Disneyland quality to it. The buildings have been completely gutted, and some even built from scratch, to conform to an ideal of what we think old Singapore should look like, rather than what they really were. That doesn't make them bad places for eating a relaxing dinner, though.
Our favorite is Clarke Quay. It has the requisite compliment of far to many restaurants to choose from easily, but unlike Boat Quay just down the river, it also has carts and small curio shops to poke around in while trying to decide what kind of food you're in the mood for. Not that Boat Quay is without its own charms. Almost all the dining area is right on the river. Across the river, the neo-classical museum is brightly lit at night, making a highly romantic setting for an intimate dinner. After dinner, take a stroll down past the end of Boat Quay where the plaza of a large modern office complex affords many places to sit and watch the lights play on the water.