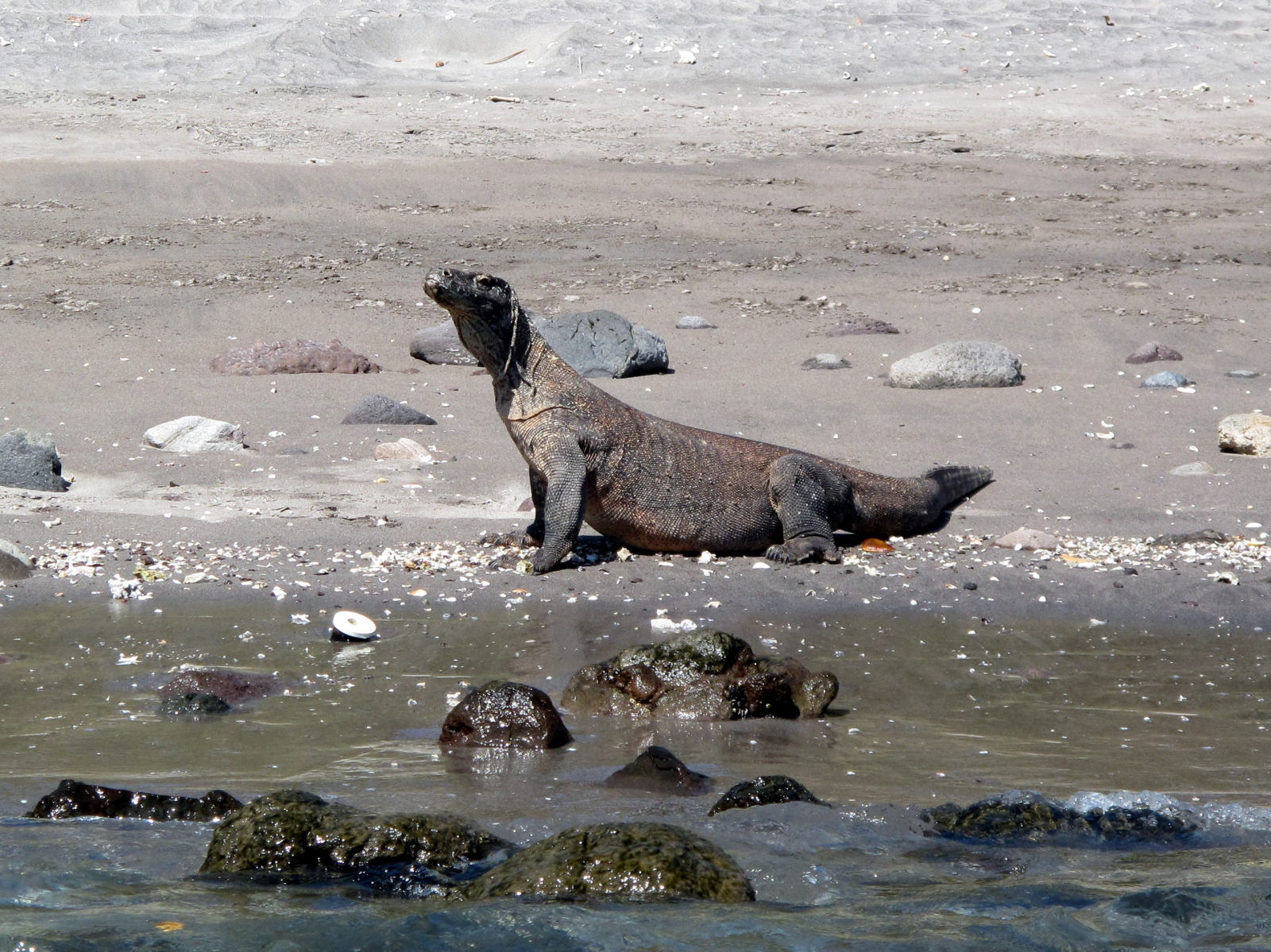 A Komodo dragon on the island of Rinca
The 'dragons' of Komodo are famous around the world. The giant lizards, which can grow up to three meters (ten feet) in length and weigh up to 100 kilograms (220 pounds) are only found on the islands of Komodo, Rinca and Flores. However, there's a lot more to see in the park than just the dragons. There are many other animals living on the wild land, and the sea around the national park has some of the best scuba diving there is.
Despite the attractions, Komodo and Flores aren't exactly over-run with tourists. Part of the reason is the difficulty in getting there, since there are few flights to the closest airport, and the alternative is a boat trip from Bali. Still, for the adventurous, Komodo and Flores makes for an unforgettable destination.
When To Go
The Komodo and Flores area is distinctly drier than the western parts of Indonesia. However, it does still have a seasonal monsoon, so the the best time to visit is during the dry season from April to September.
Getting To Komodo & Flores
In the case of Komodo, getting there really can be all the fun. If you're a scuba diver, or even avid snorkeler, then consider taking a live-aboard dive cruise from Bali to Komodo. Trips usually take around eight days, with several days spent diving in and around the park. There are some spectacular dive sites off Sumbawa to enjoy on the trip there and back.
Alternatively, you can fly from Bali to Labuan Bajo, on the western tip of Flores. There are a growing number of accommodations in the small town where you can stay and make a day-trip or two out to the park, or you can also take a shorter live-aboard dive trip out of Labuan Bajo to enjoy more of the park.
To see all that Flores has to offer, you may also want to consider a visit to Maumere, towards the eastern end of the large island. Unfortunately, there are no flights between Labuan Bajo and Maumere, so you either have to backtrack to Bali or go overland, which is not such a bad thing if you have the time.
How Long To Stay
If you just want to see the dragons, then you'll need to stay two nights in Labuan Bajo to give yourself a full day to get out to the park and back. Hopefully, if you've read this far you'll be enticed to spend more time in the area. Divers will want to consider taking the four to six day or longer dive trips. The added advantage to a live-aboard cruise is that they can visit the islands early in the morning, before the big boatloads of tourists arrive.
Even if you're not a diver, spending three or four nights in Labuan Bajo will give you time to explore the natural and cultural scenery of Flores.
Where To Stay
Divers will want to consider using one of the live-aboard dive cruises rather than a hotel or resort. There are a couple of resorts on islands closer to the park, although they're an unknown quantity. Labuan Bajo used to be rather short of accommodation of any kind, but that has changed in recent years with the opening of more hotels, some of them even rather high end. Those looking for a greener, more 'responsible' accommodation may want to consider the Bajo Komodo Eco Lodge. It's part of a growing string of eco lodges in Indonesia, whose goal is to create sustainable community-based accommodations that also meet high standards for best environmental practices. Listed below you'll find a short list of what's currently available.
If you venture to East Flores, there is also an Eco Lodge in Moni, near the Kelimutu Crater Lakes. In Maumere, on the coast, Sea World Club is about the best on offer, although that's not saying much.
Getting Around
There isn't much to see in Labuan Bajo, so you'll mostly only need transportation to and from the airport. You will need a boat to get to Komodo, unless of course you're staying on one. Boats can be arranged by any hotel, or through any of several agencies around town. You will also need a car and driver to make any trips inland to see the sights. Of course, these can be arranged from the same places that will get you a boat.
What To See & Do
The obvious reason for visiting this area is to see the dragons . There's more to see on Komodo and Rinca than just the lizards. There are also monkeys, deer, buffalo, wild pigs and birds of all kinds. As I've already mentioned, the diving around the park is fantastic, with reefs full of fish, sharks, mantas and lots of smaller things.
Towards the eastern end of Flores, the Kelimutu Crater Lakes are a fantastic natural sight. A trip there will take you past beautiful deserted beaches, thick forests and interesting villages.