Phuket is Thailand's largest island, a idyllic site for the country's premier international beach resort. Much of the island's charm is that the ocean facing west coast is lined with a series of bays where white sand beaches span between two rocky points. This makes for a series of relatively intimate places rather than one big unbroken stretch of sand lined with high rise hotels and packed with people. See the Phuket beaches page for an overall map to the main beaches and towns of the island.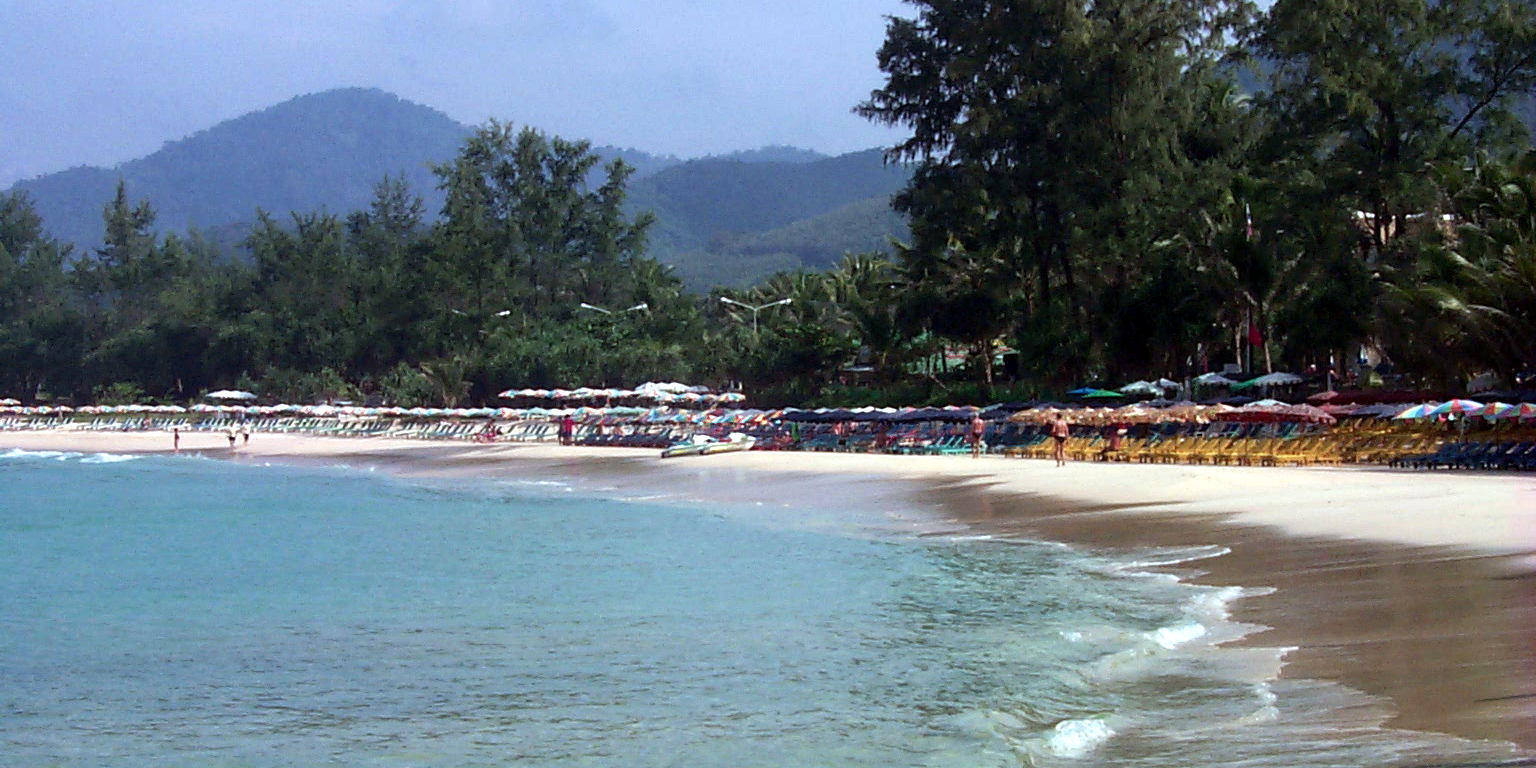 The intimate Kata Bay on Phuket.
As befits a mature international resort destination, Phuket has a large variety of sun and surf activities so there's something for just about everyone. Some would argue that Phuket's development as an international destination has made it a little less exotic. While this is certainly true of some places, there's still a lot of local color to be found for those willing to step away from the beach and look for it.
Of course, we can't talk about Phuket without mentioning the tsunami which affected a wide area of the Indian Ocean on 26 December 2004. The big wave affected different beaches to varying degrees. Karon, which has a rather steep beach, was relatively unaffected, while Patong's long gentle slope allowed the water to flow several blocks inland and well past the second floor of the buildings nearer the beach. Many businesses in Patong were effectively destroyed.
However, the wave had barely receded when re-building began to be discussed. Many businesses were able to re-open within three or four months, although some hotels took slightly longer. By the time we next visited in November 2005, just a month shy of one year since the tsunami, things were pretty much back to normal. There are lots of shiny new taxis, tuk-tuks and buildings, but other than that there is very little sign of the event that took so many lives.
Getting There
The best way to get to Phuket is to fly there. The only other realistic option is by bus, which takes in excess of 12 hours from Bangkok. The train completely by-passes the Andaman coast, so it is not really an option.
Domestic Airlines Serving Phuket
If trying to get to Phuket from Bangkok, or elsewhere in Thailand, there are a number of domestic airlines serving the island, both full service and budget carriers.
The national flag carrier flies to almost all major tourist destinations. Their web site allows you to view schedules and seat availability. You can book and pay on-line for paperless travel.
The nation's second carrier is almost solely responsible for developing special destinations such as Samui and Sukhothai. Their now extensive network covers several countries and many of the major world heritage destinations of Southeast Asia. They have some limited e-ticket capability.
Air Asia was the first budget airline to go regional. Based in Malaysia, Air Asia started flying in Thailand in 2002, and has a reputation for offering some of the lowest fares around. If considering Air Asia, it's important to keep in mind that the fares go up the closer you get to your departure date. To get the cheapest fares you need to book three months in advance.
The airport is far away from most of the beaches. Many, if not all, hotels offer a pick up service, but check the charges before you order hotel transportation. We've seen hotels charge $40 or more for an airport pickup.
Be very wary of van services offered in the airport. We've heard many reports of these vans stopping off at tour offices on the way to hotels to sell people day trips. Your safest bet is to walk the short distance to the taxi stand in the airport parking lot. These taxis charge according to their meter, plus a 100 Baht airport fee. The total for a trip to Patong or Karon will generally be around US$15.
Phuket Beaches
The popular beaches are spread along the bays of the island's west coast. The beaches along the east coast, facing Pang Nga Bay, are mostly mud flats. All of the main hotels and resorts are on the western beaches. Each of the beaches and bays has its own character, which in turn is generally built on by the hotels and resorts.
Nai Harn

A favorite among many, with many little coves and other places to achieve privacy.

Kata Bay

A small bay, mostly occupied by the sprawling Club Med but also home to a few smaller boutique hotels. Quite popular with an alternative crowd.

Karon Bay

Very long beach which can be a little steep and windblown for my taste. However, the steep beach deflected much of the force of the December 2004 tsunami, making it one of the least damaged beaches on Phuket.

Patong Bay

Patong's long curving beach is backed by the island's main tourist center, home to most of what nightlife there is on the island. Although extensively damaged by the tsunami, many businesses were re-built within months, and by November 2005 things were more or less back the way they were before the big wave hit.

Kamala Beach

Intimate beach just north of Patong Bay.

Bang Tao Bay

Home to the integrated resorts of Laguna Phuket, the beach is long and sandy.

Nai Thong Beach

One of the least touristy beaches on the island. The beach is quite nice and mostly visited by Thais.
Phuket Hotels & Resorts
No matter what kind of accommodation you're looking for, you're spoiled for choice in Phuket. Even the rich and famous - or those just pretending to be - have several places to choose from.
To help narrow down your choices, in addition to price you will want to consider the location and type of place where you want to stay. Those interested in nightlife as well as sun and sea will want to consider staying in the area of Patong Beach, the island's most developed area. Kata Beach to the south is a bit more intimate. Bang Tao bay is home to the integrated resorts of Laguna Phuket, which features a half-dozen properties catering to different clienteles, from the family oriented Laguna Beach Club to the mid-range Dusit and Sheraton resorts and on up to the luxurious Banyan Tree resort and spa.
More Hotel Options