Bangkok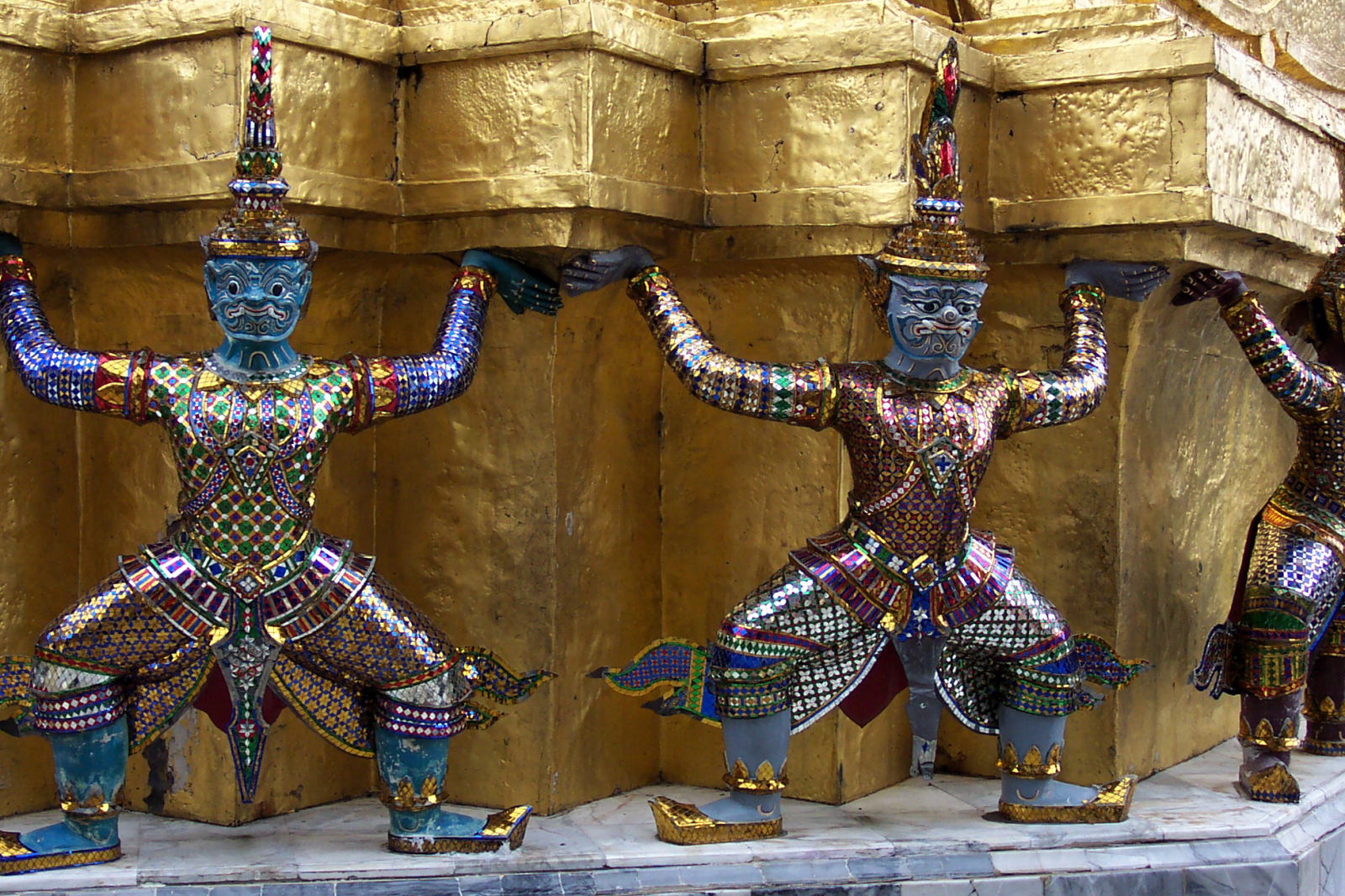 Colorful details from the Temple of the Emerald Buddha within the Grand Palace
There were no doubt many people who were surprised when Bangkok came in at the top of the Condé Nast Traveler list of the top ten Asian cities in 2006, and again in 2008. You can count me among them. But when you look at what they asked travelers to rate - ambience, culture / sites, friendliness, lodging, restaurants and shopping - it becomes clear that the 'Big Mango' belongs on the list. Where accommodation alone is concerned, Bangkok has five of the top 30 hotels in Asia, including two of the top five, and a total of nine in the list of 75.
The Thai capital is most tourists' entry point to Thailand. Most foreign airlines only fly into Bangkok, although if you are coming from elsewhere in Asia, some flights are available directly to places such as Phuket and Chiang Mai. There used to be a tendency to bypass Bangkok or move on up-country quickly due to the city's notoriously bad traffic.
In fact, traffic is not as bad as it used to be and there are many places worth seeing in the big city. Almost all of the most interesting sights are near the river, and so accessible by boat. Between the boat and the train system you should be able to get just about anywhere in town that a tourist would want to go. Pick your hotel carefully to be near the river or the train system, and you'll have no trouble getting around on your own, although you may also want to consider engaging one of the excelent private guides available, to ensure you see the parts of Bangkok you might not see on your own.
The "standard" tourist sights include the Grand Palace in which the temple of the Emerald Buddha is located and the nearby temple commonly known as Wat Po where the large Reclining Buddha is found. Wat Traimit, home to a huge solid gold Buddha, makes a good starting point for a walk through Bangkok's Chinatown.
A good way to cool off after walking around a hot palace or temple all morning is to take a tour of the canals by long tailed boat. Most riverside hotels rent boats, or you can arrange them from the piers at either the River City shopping complex or the Taksin Bridge pier near the Skytrain terminus. You generally pay by the hour. Two hours is more than enough to get a flavor of canal life, see the royal barges and stop by Wat Arun.
There's more to Bangkok than glittering palaces and temples. The metropolis is home to more than 100 museums, some of which can be quite interesting. For example, a visit to the preserved traditional Thai style home of Jim Thompson can prove educational as well as enjoyable. This can also be your introduction to another of Bangkok's popular attractions: shopping.
In this section